Over $2 million were awarded to projects focused on the root problem in Rett, MECP2 mutations. This includes renewed funding to our Gene Therapy Consortium , a unique collaboration of labs that has made remarkable progress since we launched it in 2014. We welcome to the Consortium the lab of Alysson Muotri at the University of California San Diego School of Medicine.
Stuart Cobb, of the University of Glasgow and a member of the Gene Therapy Consortium, received additional funding for his RNA editing and protein therapy work.
The MECP2 Consortium received renewed funding of $3.5 million. In their efforts to understand the functioning of MeCP2, the labs of Adrian Bird (University of Edinburgh), Michael Greenberg (Harvard University) and Gail Mandel (Oregon Health & Science University) have made a number of key breakthroughs. Importantly their discoveries are guiding our gene therapy, RNA editing and protein therapy programs.
To say that we are appreciative and grateful to the 8,658 donors and organizations who supported us in 2016 in a record-breaking fundraising year is a massive understatement. RSRT's work and progress simply would not be possible without the generosity of every individual who contributes and the tremendous hard work and energy of the affected families who fundraise for us. Our 2016 research awards set the stage for significant progress in 2017 and we are excited to keep all our families and supporters updated.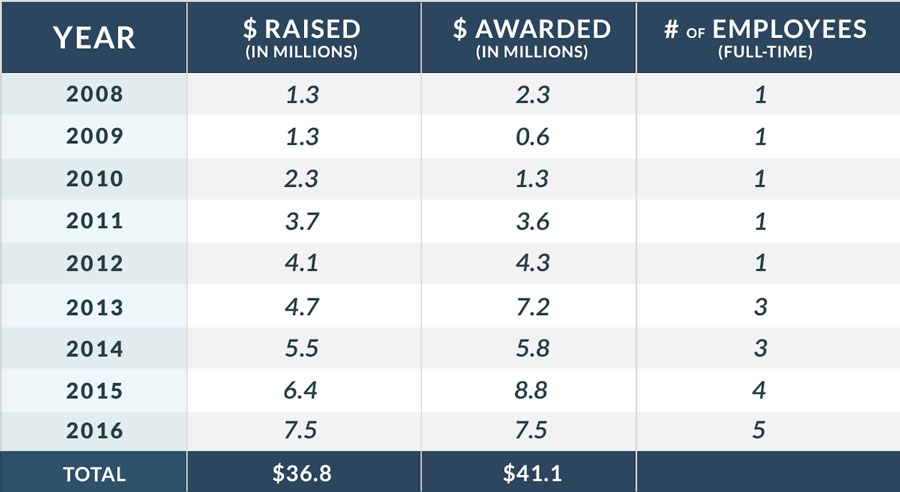 List of 2016 Awards
Gene Therapy Consortium
Stuart Cobb/Steve Gray (University of North Carolina Chapel Hill)/Gail Mandel/Alysson Muotri
$1,444,906 / 3 years
Spliceosome-Mediated RNA Trans-Splicing Therapy in Rett Syndrome
Stuart Cobb
$330,805 / 3 years
Supplemental support for gene therapy, splicing therapy, and protein therapy programs in Rett Syndrome
Stuart Cobb
$210,000 / 3 years
Protein Replacement for Rett Syndrome
Armagen
$125,000 / 9 months
Development of an in vitro cell system for discovering and evaluating the effects of therapeutic candidates on neurons produced using Rett patient iPS cells
Q State
$330,000 / 1 year
Identifying therapeutics for treating Rett Syndrome using nuclear size as a proxy for long gene mis-regulation
Michael Greenberg
$100,000 / 6 months
Reversal of Rett phenotype: a screen for compounds that enhance KCC expression
Rudolf Jaenisch (Whitehead Institute)
$180,000 / 3 years
A drug-screening platform using human neurons derived from individuals with MECP2 duplication syndrome and pre-clinical testing
Alysson Muotri
$1,001,000 / 3 years (80% of budget is for MECP2 duplication syndrome)
MECP2 Consortium
Adrian Bird/Michael Greenberg/Gail Mandel
$3,454,021 / 3 years
Miscellaneous Pilot Studies /Bridge Funding
$353,000