The recent publication of the Kipnis paper in Nature has generated understandable excitement and questions in the Rett community. Email and Facebook are difficult vehicles for providing proper answers. Rett Syndrome is complex, and so is the research; this work doesn't lend itself to sound bites. I know Rett mothers and fathers are often tired and overworked, but I encourage you to find fifteen minutes to sit down together with a cup of coffee, listen carefully to what these researchers are discussing in the video interview, and come away more deeply informed.
"I want to be crystal clear on one thing — parents should not take it upon themselves to pursue BMT for their child."
The paper has already been euphemistically coined the bone marrow transplant paper. I've occasionally called it that myself, sometimes in the presence of Dr. Kipnis, who promptly says, "Please don't call it that. There is so much more information in that paper than just the bone marrow experiments." He's right. In fact, there is enough material to have generated multiple publications.
The paper is attracting an unusual amount of attention in the scientific community, and this is bound to stimulate more interest in Rett Syndrome and the role of the immune system in neurological disorders. The bone marrow transplant result is understandably what families gravitate to because of the potential for clinical application, but it's important not to ignore the other findings, because they too could point to eventual treatments. In fact, it is my fervent hope that in time, new discoveries will make it possible to manipulate the immune system through a safer route.
Bone marrow transplants (BMT) have been used since 1968 to treat an increasingly wide range of disease, including cancers, metabolic diseases, inherited red cell disorders and immune disorders. The treatment can be lifesaving. It can also be fatal. Accompanied by chemotherapy and/or radiation treatment, BMT is a serious and grueling procedure with significant side effects. The combined expertise of specialists in pediatric BMT, as well as in Rett Syndrome, together with basic scientists is crucial to minimizing risk as much as possible.
As part of a fact-gathering process, RSRT has been facilitating talks between top pediatric transplant centers and Sasha Djukic, Director of the Rett Syndrome Center at the Children's Hospital at Montefiore, Jonathan Kipnis and his lab members and, most recently, NIH. Discussion includes defining the data needed to consider clinical trials. This must be completed and thoroughly evaluated in order to design the best possible treatment protocol. Independent confirmation of the results achieved by Dr. Kipnis and his team is a standard requirement; this work is already underway. Further experiments in the Kipnis lab itself are ongoing, and we can expect more new information to emerge.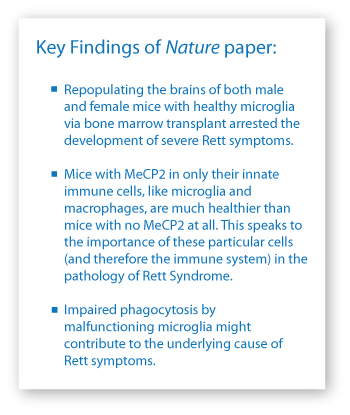 It is perhaps timely for me to reiterate that RSRT is very aggressive about research, and conservative about clinical application. I want to be crystal clear on one thing – parents should not take it upon themselves to pursue BMT for their child. As the mother of a severely afflicted daughter, I understand all too well the desperation for treatment. As Executive Director of RSRT, I understand equally well the importance of applying meticulous due diligence. RSRT does this in all the work we undertake, the projects we review, our financial decisions, and certainly in our approach to clinical trials.
I share your excitement, your urgency and your trepidation, and RSRT will continue to inform you of new developments as they unfold.
- Monica Coenraads
Executive Director, RSRT