Dr. Daniel Tarquinio, the director of the Rett Syndrome Clinic in Atlanta will soon be recruiting for a 10 person, open label trial (everyone gets the drug) testing triheptanoin. The drug, also called UX007, is a colorless oil which is broken down in the body to help fuel specific chemical reactions that produce energy. Administration of UX007 has shown improvements in both metabolism and mortality in disorders with impaired energy production (for example, mitochondrial disorders). Treatment with UX007 improved longevity, motor function, and social interaction in the mouse model of Rett Syndrome, and may have improved metabolic dysfunction as well. Additionally, in general acute and chronic mouse models of epilepsy, UX007 acts as an anticonvulsant, although the mechanism for this is unclear.
The primary objective of the study is to evaluate the safety and tolerability of UX007 in subjects with Rett Syndrome using laboratory values, electrocardiogram, rate of adverse events (AE), and physical exam.
The secondary objectives are to evaluate the efficacy of UX007 in improving overall seizure frequency and dystonia.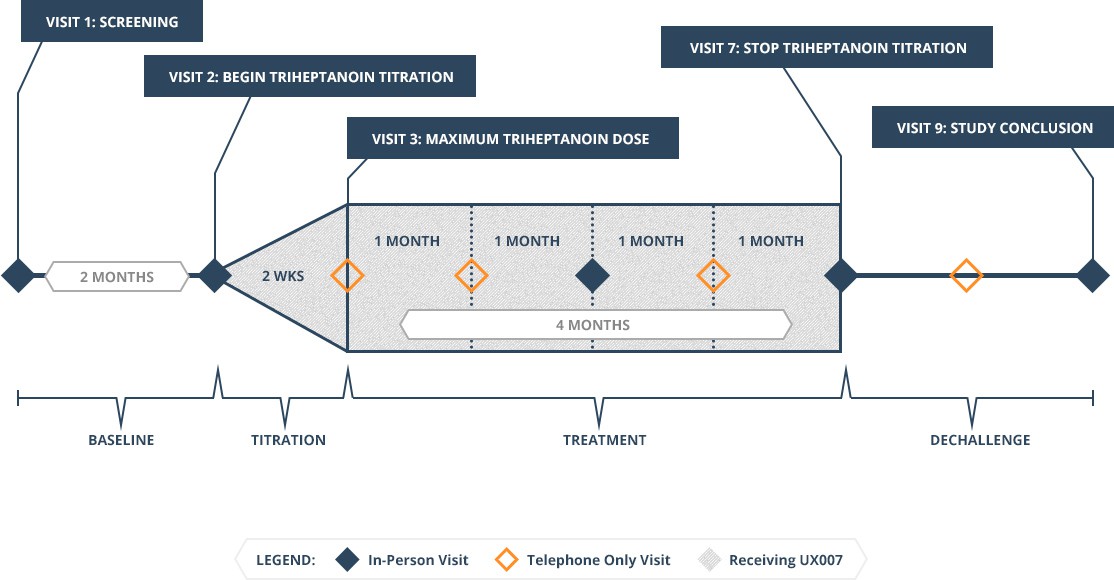 The study will enroll 10 pediatric, adolescent, and adult participants with Rett who have seizures (at least four seizures per month), dystonia (at least four dystonic episodes per month), or both. They must be on a stable medication regimen, defined as having had no medications added, taken away or dose adjustments for 30 days prior to the start of the study. Pediatric participants must be at least 2 years old at the time of consent, and must be in the post-regression period, defined as having had no clear loss of language or hand use in the 6 months prior to the study.
Participants will be evaluated for inclusion during a screening/baseline period of 2 months. Eligible participants will begin UX007 after 2 months using a 2-week titration schedule until the subject has reached age-specific target dosing. Once the maximum dose is reached, the participant will continue to receive UX007 for 4 months. Participants will be monitored for an additional 2-month period.
The trial is funded by Ultragenyx and RSRT.
For more information about the trial please contact Dr. Tarquinio.