Reading is a favorite pastime. I don't have much time to read anything beyond science articles and other work-related materials. However, when Philip Reilly sent me a copy of his recent book, "Orphan, - The Quest to Save Children with Rare Genetic Disorders", I knew I had to find the time to read it. I'm glad I did.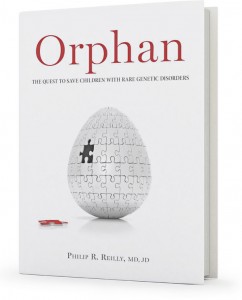 Reilly takes the reader on a fascinating journey through history chronicling the efforts, discoveries and breakthroughs of scientists, clinicians, companies and patient advocates who tackle drug development for rare diseases head on.
Reilly weaves personal stories and experiences throughout. One such story describes the daily struggles of Tim Hibbard afflicted with a horrific skin disorder, epidermolysis bullosa. Tim has been on my mind since reading about him.
Don't let the topic intimidate you. The book is meant for lay audiences and covers scientific materials in a down to earth and easy to understand way. If you love a child with Rett, duplication syndrome or any other genetic disorder and if you believe in the power of research then this book is for you. To hear or read a sample from the book visit the website.
Added treat: Rett Syndrome and RSRT make an appearance in the book several times.