The entire Rett community celebrated on May 3 of this year when AveXis formally announced plans to submit the IND application for AVXS-201 for Rett syndrome in late 2018/early 2019. We all then held our breath on May 15 when Novartis purchased AveXis for $8.7 billion, wondering whether Novartis would prioritize the Rett gene therapy program within their extensive therapeutic pipeline. Since the acquisition, RSRT has had numerous conversations with the senior management of Novartis (including the CEO of Novartis) and AveXis and we are happy to report that Novartis is committed to this timeline and it remains achievable. Pending FDA approval, a clinical trial should start early next year.
Specifically, in the October 18, 2018 Investor Presentation, Novartis shared their planned filings for regulatory approval for products currently in development. This table formally confirms their intent to develop AVXS-201 for the treatment of Rett Syndrome. This means that Novartis currently predicts it will take at least three years to complete the trials necessary to support FDA approval of the gene therapy product. Of course commercialization will only happen if the gene therapy delivers dramatic results.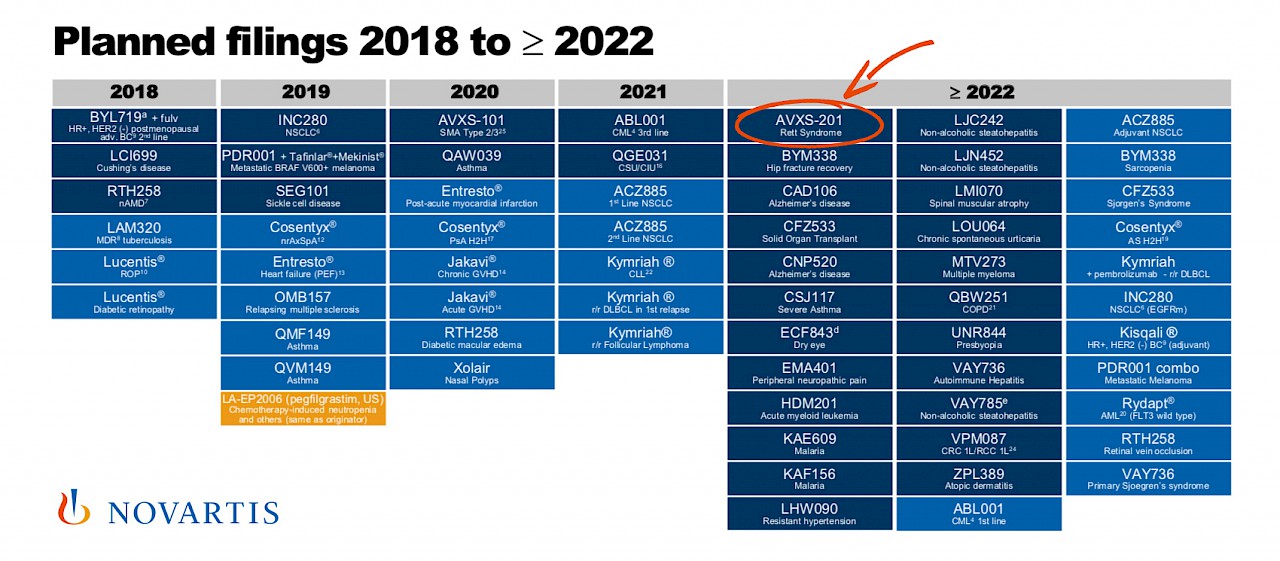 Although progress may seem slow for anyone who loves a person with Rett Syndrome, there is a huge amount of work and great progress going on behind the scenes. We are fortunate that AveXis and Novartis are able to leverage the insights gained from developing AVXS-101 for spinal muscular atrophy to inform and accelerate progress in developing AVXS-201. The required animal safety studies have been replicated in compliance with FDA standards and study reports are being compiled for submission to FDA. The clinical team has been working collaboratively with expert physicians, scientists and RSRT to optimize the design of the first clinical trial. In parallel, the manufacturing team has been optimizing the manufacturing processes and quality assessments to meet FDA standards.
Gene therapy is a new therapeutic approach where knowledge and expertise are rapidly increasing. There is much to learn that can only be achieved by advancing gene therapies into human clinical trials. At this point in time, it is not possible to predict the therapeutic potential of gene therapy for individuals with Rett Syndrome. However, safety of trial participants is the primary concern for the first study of any therapeutic in humans. The FDA currently has over 700 active investigational new drug applications for gene therapy (Collins), and therefore has a large body of both animal and human data to guide their safety evaluation. I have confidence that FDA will assure the clinical trial design appropriately balances the risk and benefit for trial participants.
Exciting times ahead.