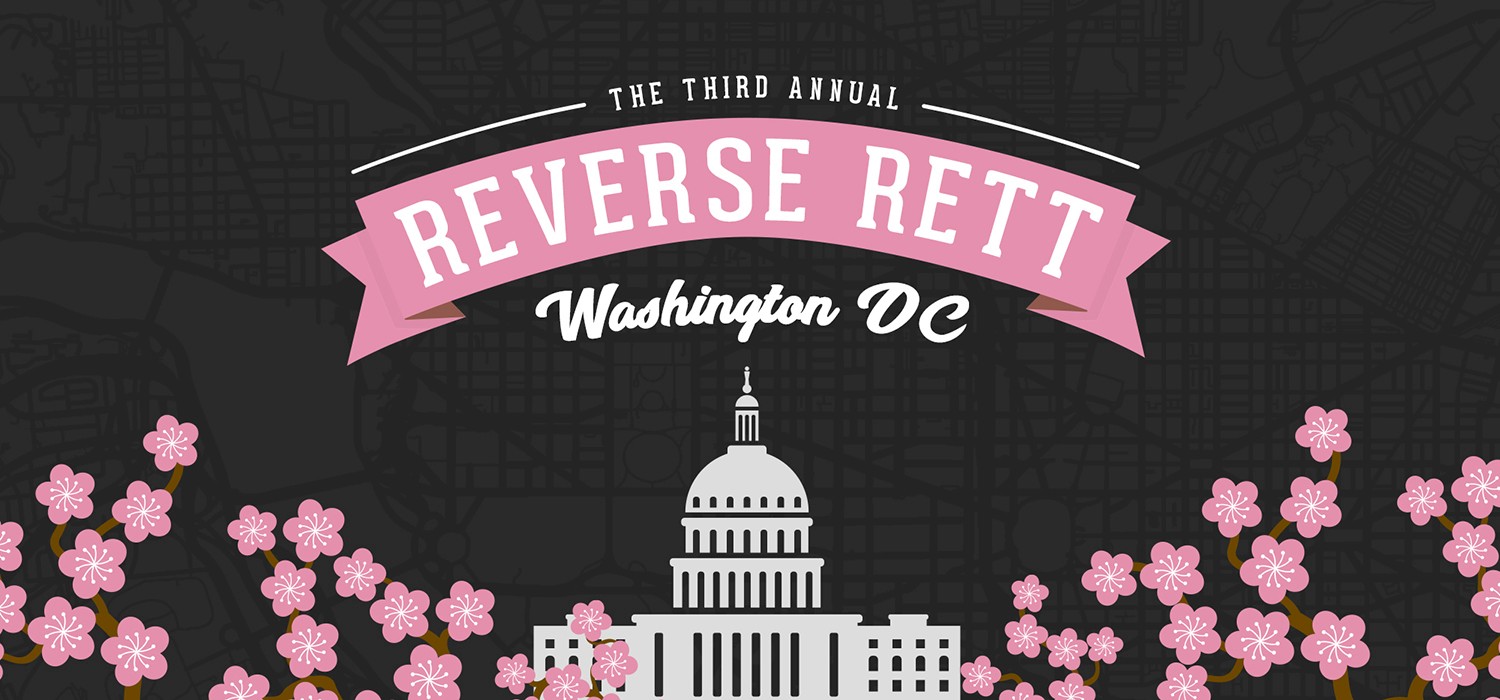 When
Wednesday, November 18, 2020
6:30 PM
Join our virtual event at www.ReverseRett.org/DC
Reverse Rett Washington DC 2020
https://www.youtube.com/watch?v=NuryXI_7-_A (404)
Research on Rett Syndrome is more urgent than ever. Our loved ones with Rett struggle with underlying health issues and are especially vulnerable to COVID-19. We simply must change their lives. All our hopes and dreams lie with the Rett Syndrome Research Trust, the non-profit in which we place tremendous confidence. And all our hopes and dreams lie with you, our loyal supporters who make this research happen.
This year's Reverse Rett DC will be virtual. Your support will have a more focused impact than ever. Every donation and sponsorship will go to an especially promising RSRT project: The Rett Syndrome Gene Therapy Program at the University of Pennsylvania. The UPENN program is led by pioneering gene therapy expert Dr. James Wilson, who discovered the AAV9 vector, the gold standard for delivering healthy genetic material. One of Dr. Wilson's key goals is improving delivery of genes to the brain, crucial to the success of gene therapy for Rett.
We ask for your most generous support to help RSRT carry out this project and change 350,000 lives. Thank you with all our hearts.
Co-Chairs
Amy & John Gilliland
Rebecca & Genc Zaja
Committee
Sukanya & Anthony Blackman
Kathrine & Anthony Calderazzi
Jacquelyn & Philip Carden
Kaylee Christensen
Ayeh Ekbatani
Kellie Forsyth & Grant Simard
Ann & Bruce Goodman
Beth & Kevin Howard
Ashley Hunnicutt
Houman Jalali
Angie & Brian Keesee
Renata & Leo Leondaridis
Doris Lee & Jeremy Martin
Allison & Brett Meringoff
Samira Milani
Lisa & Rusty Morrison
Rebecca Post & Steffen Frey
Emilie & Will Rabke
Valerie & Jacques Riviere
Vasudha & Neeraj Singh
Jessica Smeby
Sharon & Kevin Starkey
Dr. Bruce Thomas
Dr. Daphne Thomas Kasperek & Thomas Kasperek
Kimia Tran
Sponsorship Opportunities
Discovery
$25,000
Supports the project's collaboration with the UPENN Vector Core Services, which has over a decade of experience in the production of viral-based vectors for gene transfer
Featured on webpage
Zoom call with researchers
Progress
$10,000
Supports therapeutic efficacy studies that will assess the vector's impact
Featured on webpage
Zoom call with researchers
Research
$7,500
Funds toxicology studies that ensure proper dosage amount and safety
Experimentation
$5,000
Helps defray the cost of preparing an Investigational New Drug Application that will set the stage for clinical trials
Exploration
$2,500
Supports attendance at scientific meetings to review results, key to translation of discoveries to clinical impact
Groundwork
$1,000
Helps support the cost of equipment and supplies vital to the project