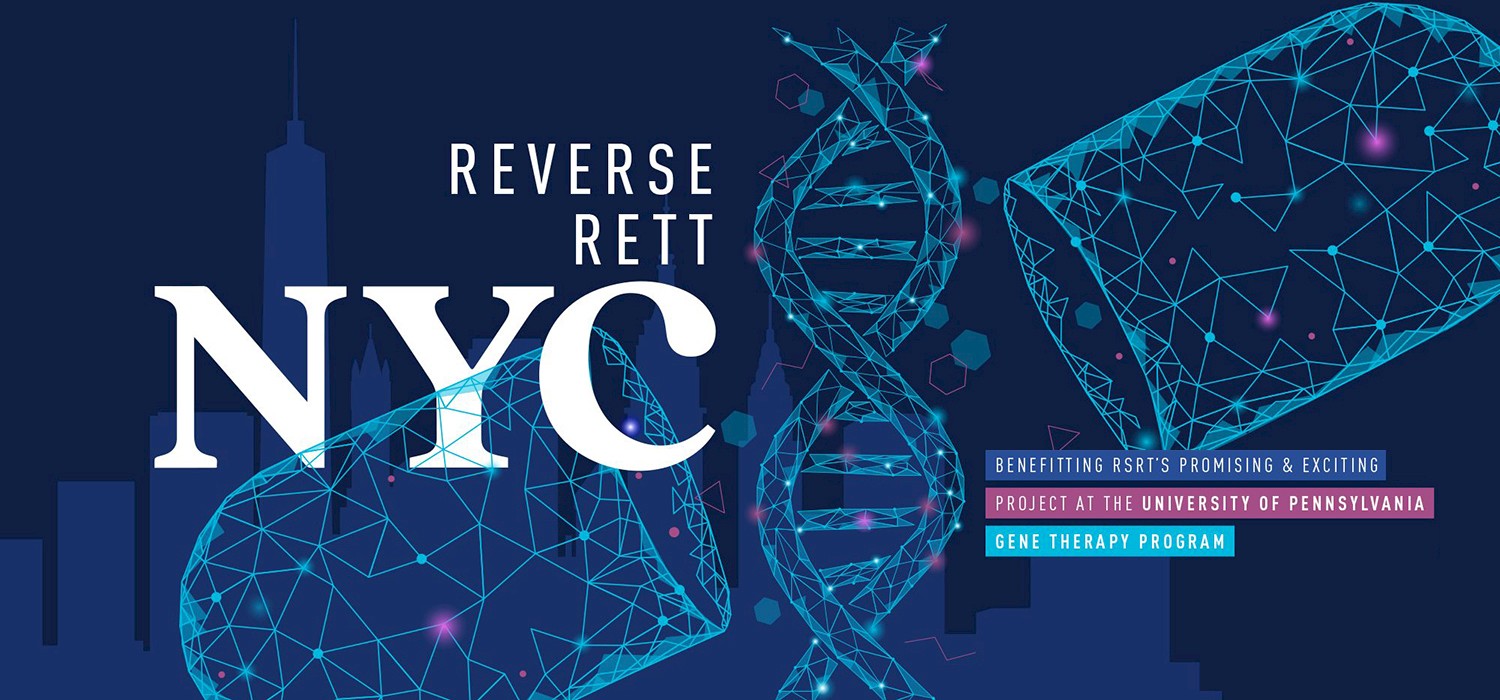 When
Wednesday, November 11, 2020
6:30 PM
Virtual Reverse Rett NYC 2020
https://www.youtube.com/watch?v=E0RtSCMm0FI (404)
Our cause, research on Rett Syndrome, is more urgent than ever. Our loved ones with Rett struggle with respiratory issues and underlying health problems so they're especially vulnerable to COVID-19. We simply must change their lives. All our hopes and dreams lie with the Rett Syndrome Research Trust, the non-profit in which we place tremendous confidence. And all our hopes and dreams lie with you, our remarkable and loyal supporters who make this research happen.
This year's Reverse Rett NYC will be virtual. Everyone's health and wellbeing are most important. Even though we won't get to see you, we hope to raise $600,000 to support an especially promising RSRT project: The Rett Syndrome Gene Therapy Program at the University of Pennsylvania. UPENN has the largest academic gene therapy program in the world. It is led by pioneering gene therapy expert Dr. James Wilson, who discovered the AAV9 vector, the gold standard for delivering healthy genetic material. One of Dr. Wilson's key goals is improving delivery of genes to the brain, crucial to the success of gene therapy for Rett.
We ask for your most generous support possible to help RSRT carry out this project and change 350,000 lives. Thank you with all our hearts.
Co-Chairs
Stephanie & Andy Bohn
Stephanie & Joaquin Bouzas
Rachel Clarke & Tim Freeman
Elizabeth & Jonathan Easton
Heidi & Jonathan Epstein
Megan & Mark Grgas
Hope Goldstein
Lawrence Mattis
Erika & Thomas Oelkers
Colleen & Joseph Palmer
Amy & Tony Pasquariello
Jesse & Jeremy Randol
Maggie & Gene Rogers
Rachel & Jason Rothschild
Christine Salerno
Innes & Dmitri Smolansky
Committee
Thomas Atlas
Javon Bea
Renuka Bellamkonda & Ravi Chigurupati
Jeff Callis & Chris Marrone
Jennifer & Stephen Davis
Virve & Michael Deutsch
Stephanie & Sean Doyle
Heather & Jordan Epstein
Lauren & David Freylikhman
Ruee & Vishal Gawarikar
Elaine & Thomas Giannetti
Jill & Mark Goodfellow
Valerie & Michael Goodwin
Rachel & David Grandwetter
Susan Grgas
Liz & Chris Griffett
Kim & Blake Gronich
Wendy & Steven Gronich
Elizabeth Hallock
Violaine & Kris Herlitz
Leslie & Mark Hoffman
Priyanka Joseph & Nithin Eapen
Michelle & Sonny Kalsi
Nancy Kiesendahl Bloch
Melani Kodikian & Kyle Burrows
Paula & Matthew Loeb
Jennifer & Thomas Lopez
Zhengrong Lu & Zhe Wang
Renée & Evan McGraw
Melissa Morton
Reshma & Hardeek Patel
Kristin Polizzotto & David Glick
Jeff Pomeranz
Raquel & Antonio Priolo
Lindsay & Scott Reardon
Catherine & John Romano
Marsha & Paul Rothschild
Malgorzata & Rafael Severyn
Merrill & Steve Tesler
Yen & Rich Tesler
Julie Vance
Lillian & Josh West
Maggie & Brian Wurm
Jill & Michael Yusko
Brad Zelinger
Jennifer Zeller & John Singer
Sponsorships
Breakthrough
$50,000
Funds development of the vector that will improve
transfer of healthy genetic material to the brain
Featured on webpage
Featured on invitations*
Zoom call with researchers
Discovery
$25,000
Supports the project's collaboration with the UPENN Vector Core Services, which has over a decade of experience in the production of viral-based vectors for gene transfer
Featured on webpage
Featured on invitations*
Zoom call with researchers
Progress
$10,000
Supports therapeutic efficacy studies that will assess the vector's impact
Featured on webpage
Included on invitations*
Zoom call with researchers
Research
$7,500
Funds toxicology studies that ensure proper dosage amount and safety
Listing on webpage
Included on invitations*
Experimentation
$5,000
Helps defray the cost of preparing an Investigational New Drug Application that will set the stage for clinical trials
Listing on webpage
Included on invitations*
Groundwork
$1,000
Helps support the cost of equipment and supplies vital to the project
*Please make your sponsorships by September 15 to be included on the invitations